Hello and welcome to the first Newsletter for American Dive Center. The Coral Springs location has been located on the corner of Riverside Dr and West Sample for over 18 years. We are proud to offer our wares and services to Coral Springs and the neighboring communities.
Our Manager, Michael Arsenault, has been a certified diver since 1993 and dived in the Atlantic Ocean, Pacific Ocean, ​Gulf of Mexico and the Caribbean Sea. He has been involved in the Industry as a professional since 1999 and is full of knowledge and great stories to share with you. You will find Michael a welcoming and helpful part of the Coral Springs Dive center.

As the water is now well on its way to hitting those inviting temperatures, that we are so blessed to have here in South Florida, you are encouraged to prepare yourself and your trusted dive and snorkel equipment for its intended use. Here is a reminder not to leave that coveted annual service of your life support equipment for the last minute. Our manufacturer authorized in house service technician needs time to make sure that your equipment is ready for your use. Drop it off before you need it and it will be ready well in advance. This offers you piece of mind, knowing that your equipment will not let you down and will offer you the safe use that the manufacturer intended.
Also important are your self rescue skills and buddy assistance. If it has been a while since your last dive, you may want to revisit your basic skills in the pool. We can arrange for this instruction. We can offer regular scheduled classes or a private tune up. Just let us know because your safety is very important. Our next scheduled

Open Water Course is scheduled for April 27

. Why not join us in the pool and then out to the sea? Have a family of friend enroll in the course and let us train a new dive buddy for you. Sounds mutually
beneficial
. We love referrals.

If you are looking for a great opportunity to dive and learn something to make yourself a better, more experienced, diver. Enroll in

Advanced certification

. ​The course is 5 dives over 2 or 3 visits. Just think of the fun you will have gaining experiences. Combine the Advanced with a Peak Performance Specialty and you will save. Also combine the

Nitrox certification

and add more safety, knowledge and savings to the experience.
​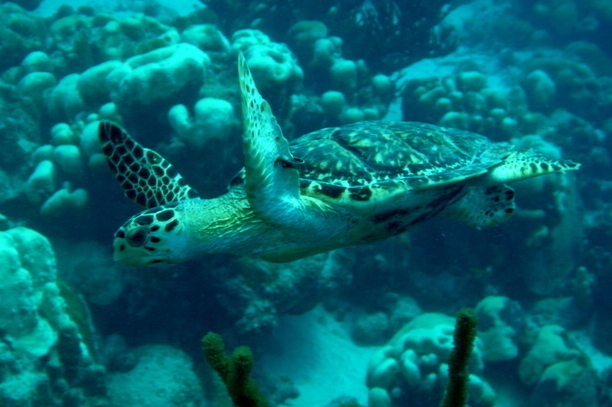 April 22 is Earth Day
and this year is a great year to do something to give back to our planet home. Some great ideas that are green related are take the Tri-rail system or ride a bike to work, go to an aquarium or zoo, bring a small mesh bag while diving to pick up some trash. The Impact of just a little done by many will mean a lot. Plastic in the sea is never any good. Turtles ingest plastic that causes obstruction, leading to death. Do your part to reduce plastic use for a day.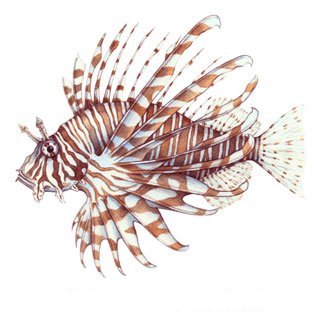 Pterois
is a genus of venomous marine fish found mostly in the Indo-Pacific, known collectively as the
Lion Fish
. Pterois is characterized by red, white and black bands, showy pectoral fins and venomous spiky fin rays. Pterois are popular aquarium fish and are readily utilized in the culinary world.
In the mid 1990s, the species P. volitans and P. miles were unintentionally introduced into the Atlantic Ocean and have become an invasive species along the East Coast of the United States and the Mesoamerican Barrier Reef System.
Today divers are encouraged to help in the elimination of Lion fish from the reefs. These tasty fish have a
ferociousness appetite for indigenous juvenile reef and game fish. With that said we are offering a "

Lionfish Eradication Course

" from PADI. Course includes a manual, Instruction on how to Identify Lionfish, safely collect and prepare for consumption the tasty specimen, two boat dives, and certification for only $195. This is a fun and informative course. Please stop in for details on the next course scheduled for April 22.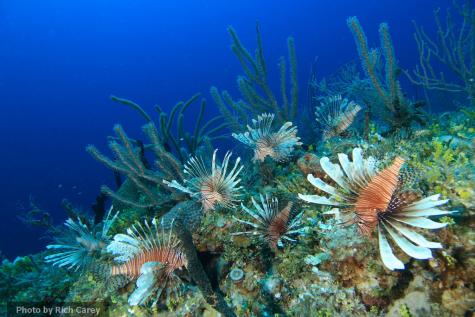 Calling all underwater hunters who want to make a difference. American Dive Center is co-hosting a
Lion Fish Derby and Potluck BBQ on May 12, 2012
in Boynton Beach. Two dives off of Dolphin Sun shooting and collecting Lionfish. We will have
prizes and beverages afterwards
while enjoying a potluck and fellowship. Sign up early as spaces are limited to 14 divers although non divers can join celebration afterwards. Cost is $65 pp for the afternoon two tank. We are looking to get together a team of 6 for a South Florida Derby, competing against 6 other dive shop teams.​ Ask for details.
In conclusion we look forward to helping everyone enjoy safe dives and getting the most out of their recreation dollar. Please support your Local Dive Center and we will do our best to offer top quality products
at a competitive price.

Michael Arsenault
Manager of Daily Operations.​​​